Recently we introduced the support for storing TOTPs of other accounts in Enpass for iOS and Mac, and we are quite thrilled with the great response we got on our social channels from all our users.
Access to Time-based OTP is here!
With the version 5.1 of Enpass for Android and version 5.2 for desktop apps on Linux and Windows, we're making the life easy for a broader set of Enpass users by letting them store their time based one time passwords of various logins in Enpass. This helps you avoid switching to other authenticator apps like Google authenticator, and you can easily access the TOTP from the Enpass app itself.
For instructions on adding and accessing TOTP fields in Enpass, follow the steps described in the user manual of Android, Windows and Linux.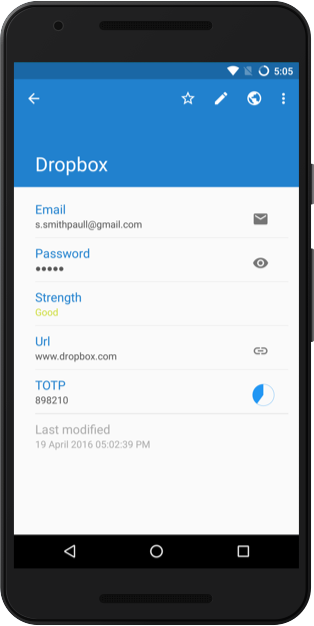 Selective field sharing in Android
Just like Enpass for iOS users, Android users too can now enjoy the cool feature of selective field sharing. You can now manually select the fields of your choice of any item and share them easily
We've got lots of new features in these updates like new search engine option for Enpass browser in Android apart from squashing some creepy bugs. To know the specifics, checkout the complete change-logs of Android, Windows and Linux.
Of course, like always, all we need is your love and support. Give the latest version a try, and share your experience with us on Twitter/ Facebook. For any complaints or suggestion of features, head to our newly released Enpass Forums.
Use Enpass, and stay secure.