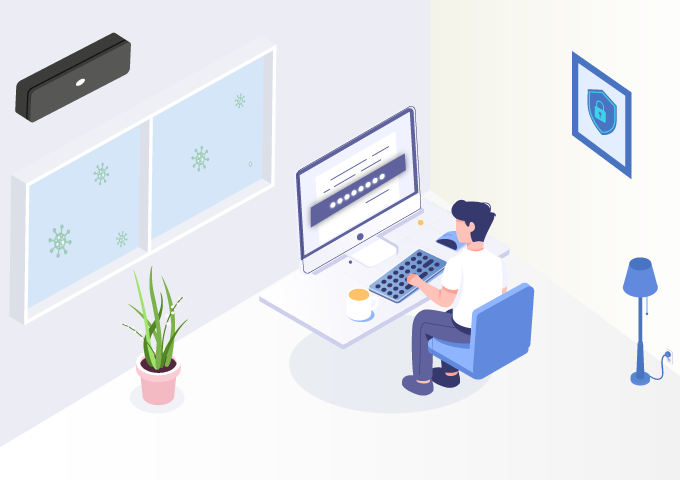 At Enpass, we've often talked about securing your digital life – beyond just using a password manager – with safe internet browsing practices as well as by securing your devices and networks.
This need has been accentuated by the global health crisis in the wake of COVID-19 that has mandated employees working from home – often for the first time with personal devices and no security considerations as one is subjected to in-office premises.
Here are some of the things you can do to work remotely without compromising on your security and your organization's integrity.
Secure your devices
The primary thing one needs to do is securing your personal devices as well as the Wi-Fi network you use at home. Download all updates to the operating system, firmware, and applications – especially the ones that you use for communicating and collaborating with your work colleagues like the video conferencing tools.
If you use smart home and automation devices at home, make sure you consider their safety as well along with your laptops, tablets, and smartphones. These are just as vulnerable to cyber-attacks, if not more. Here's how you can go about it.
Prudent authentication
Good password habits and using a good password manager like Enpass cannot be stressed upon enough.
During this work-from-home situation, people are signing up for more and more online services. It is important you make yourself familiar with generating strong passwords within the password manager as well as using autofill to enter the saved credentials instead of memorizing them.
There's also a need to understand how you can share passwords and set up multiple vaults to share credentials with your team members.
Safe online habits
According to a recent report, phishing scams and malicious COVID-19 links have grown since January 2020. These emails from cyber criminals masquerade as information around PPEs, hand sanitizers, and other such 'keywords' around the pandemic.
Clicking on such emails provides may allow hackers inroads into your devices and data. Here's how you can watch out against phishing attempts in spam emails.
You can also consider using a VPN client to secure your online activity and safeguard your devices.



These are a few simple and essential tips that you need to take care of while working remotely from home. Do you have any more such best practices? Tell us on Twitter at @EnpassApp or on Facebook. Stay safe, and be well.