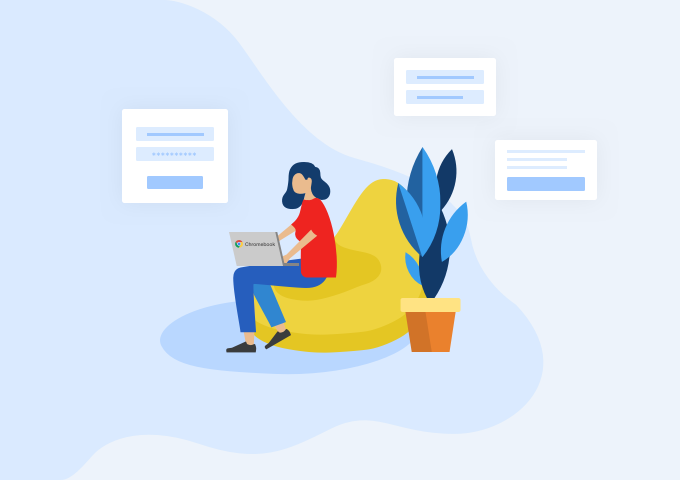 The wait is finally over! Today, we have released Enpass 6.0.8 for Android – a new release with Autofill support for Chromebooks and a few other useful features for both Chromebooks as well as Android smartphones.
Let's fill you in with details about the new features that Enpass v6.0.8 offers.
Autofill in websites
One of the most requested features on our forums is the autofill feature on Chromebooks. Enpass v5 used to support autofill on Chromebooks but the support for the feature was relinquished with the release of v6 because the v6 was based on an entirely new architecture that didn't allow autofill with the older Enpass extension – Enpass connector for Chromebooks.
With Enpass 6.0.8 for Chromebooks, we've brought the much-anticipated feature back. Unlike the previous versions, you don't have to juggle between the multiple extension available on the Chrome Store. Now you have just one Enpass extension… the same one you use in the desktop version, works for Chromebooks too.
Well, to use Autofill in Chromebooks, make sure you're equipped with the updated version of Enpass extension for Chrome on your Chromebook. Then you just have to enable the Autofill service from the Enpass settings. Once done, you're good to go for a seamless Enpass experience on Chromebooks.
App shortcuts
App shortcuts are the essential ingredients when it comes to preparing the recipe to boost your everyday productivity with Enpass. With App shortcuts, you can search for the items, add or access the Favorites items, and much more right from the home screen of your Android smartphones or Chromebooks.
Just give a firm press on the Enpass icon from the home screen and choose the action you want to perform. It's that simple!
---
There's much more we've brought to the table with this update, and you can have a look at the complete changelog here.
Well, that's that! If you have something to share, drop us a line on Twitter or Facebook. If you're looking for help, shoot us an email at support@enpass.io, or better still, engage with the Enpass community on our Forums.