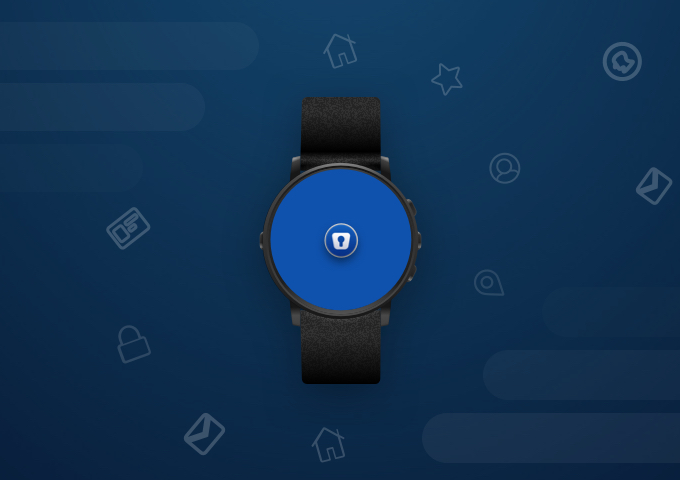 Android smartwatch usually refers to any smartwatch powered by Wear OS by Google, previously known as Android Wear.
Wear OS is the operating system by Google that is designed for smartwatches and other wearables. Because these smartwatches also work with iOS, Google changed the branding to Wear OS instead of Android Wear, however, the name 'Android smartwatches' has stuck.
Keeping up pace with new innovations, Enpass has supported smartwatches since a while. Enpass on your smartwatch makes it easier for you to access your frequently needed information without reaching for your smartphone in your pocket or in your bag.
Setup
For setting Enpass for your smartwatch, all you need is the Enpass app installed on your device and any smartwatch powered by Wear OS. To pair it with your Android smartphone, open the Enpass app and go to Settings, select Android Watch, and tap on Enable Android Watch.
Optionally, you can also Enable PIN and use it to unlock Enpass on your smartwatch. If you enable Show TOTP Only, your smartwatch will show only the TOTP (Time-based One Time Password) of the item, hiding all other fields.
To add an item to your smartwatch, go to the details screen of the item, and tap Add to Watch. All the items that you've added to your smartwatch can be accessed from the sidebar – OTHERS → Watch.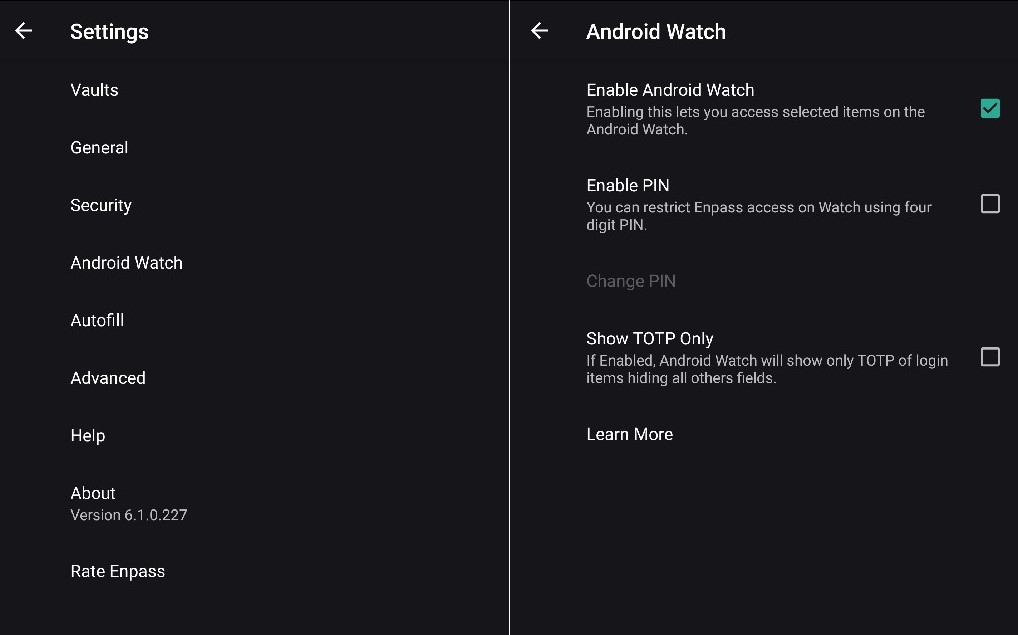 Security
Android smartwatches work through the smartphone they are paired with. It communicates securely only with that device over Bluetooth using the Android Wearable Data Layer API.
Only those items are accessible on the smartwatch which the user adds specifically. These shared items are not as secure as the rest of the items as they are no more being protected by your master password.
For extra security, you should also enable PIN code for your smartwatch. Otherwise, if anyone gets access to your watch, he/she will be able to see the items stored on it.
Summary
Enpass on your smartwatch offers a handy way to access your information right on your wrist without the need to pick up your phone.
Download Enpass and check out our user manual for Enpass on Android smartwatches for getting started, and if you have any feedback or suggestions about your experience with Enpass on smartwatches, drop us a line at support@enpass.io or give us a shout out on Twitter or Facebook.
P.S. Enpass also supports Apple Watch if you live on the other side of the fence. Here are the details for getting started with Apple Watch integration with Enpass.