First released in April 2015, Apple Watch has gone on to become arguably the most popular smartwatch and also the best-selling fitness wearable globally.
Keeping up pace with new innovations, Enpass brought support for Apple Watch within a couple of months back then. Enpass on Apple Watch makes it easier for you to access your frequently needed information without reaching for your iPhone in your pocket or in your bag.
Setup
To install the Enpass app on Apple Watch, on your iPhone, go to My Watch, scroll down till you see Enpass, tap on Enpass, and enable Show App on Apple Watch.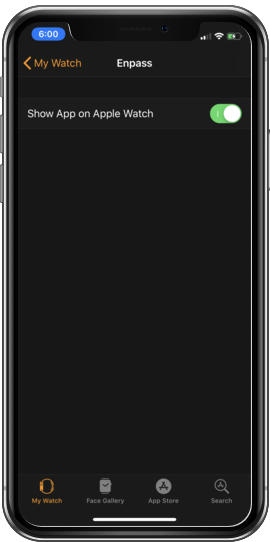 Next, all you need to do is head to Settings in your Enpass app (iOS 8 or above) and toggle the Enable Apple Watch setting for the Apple Watch. Note that you cannot use Enpass for Apple Watch without enabling passcode for your device.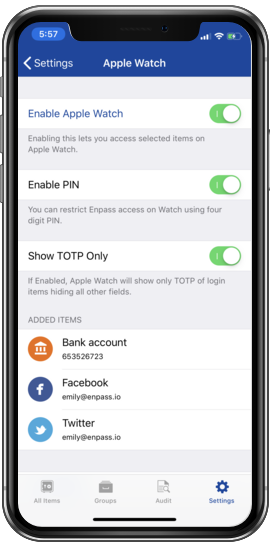 Security
Apple Watch works only through the paired iPhone. It communicates securely with that device over Bluetooth using Apple Watchkit. All your Enpass data is stored on your iPhone, and the Apple Watch fetches it each time over Bluetooth. This way, even if your Apple Watch gets stolen, it will simply not work when out of range.
However, you can add specific items to be stored on your Apple Watch. To add items to the Apple Watch, open the details screen of item, and then tap Add to Watch. All the items you've added to the Watch can be reviewed from Settings > Apple Watch.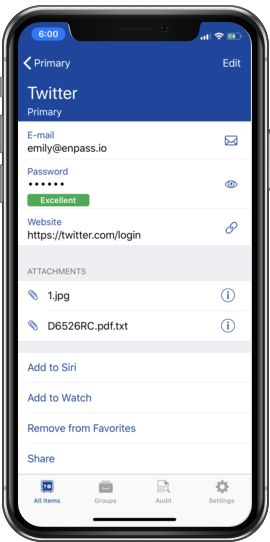 It's important to remember that these shared items are not as secured as rest of the items as these are not protected with your master password. We, of course, strongly recommend you create a PIN to unlock the Enpass app on Apple Watch for additional safety.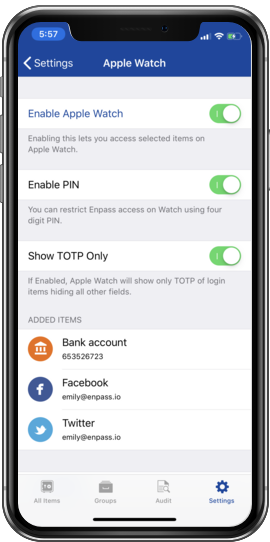 Summary
Enpass on Apple Watch offers you a handy way to access your information right on your wrist without the need to pick up your phone.
Here's our user manual for Enpass on Apple Watch for getting started, and if you have any feedback or suggestions about your experience with Enpass on Apple Watch, drop us a line at support@enpass.io or give us a shout out on Twitter or Facebook.
P.S. Enpass also supports Android Wear smartwatch if you live on the other side of the fence. Here are the details for getting started with Android Wear smartwatch integration with Enpass .