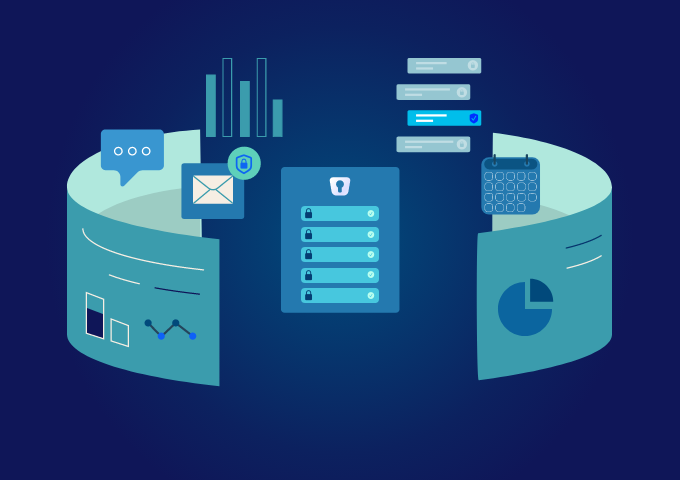 It's been eight years since the first version of Enpass was launched. Since that day, we've had one goal in mind – to create the best offline password manager for our beloved customers. You've helped make Enpass what it is today thanks to your continued support and feedback.
During our journey together, one thing has been very clear – the importance of being able to keep all your passwords and sensitive data with you on your devices, or in your trusted cloud. And we've heard this same message over and over from businesses, some of whom have implemented the consumer version of Enpass within their organizations because of its offline capabilities.
If your organization hasn't yet implemented a password manager because the powers that be have been holding out for an enterprise-ready offline solution, then the wait is over! We are thrilled to announce the availability of Enpass Business!
What is Enpass Business?
Enpass Business is the enterprise password manager for companies that are highly regulated, concerned about security and compliance, want to maintain ownership and control of their business-critical data within the trusted boundaries of their IT infrastructure, and don't want the burden or overhead associated with ongoing monitoring of self-hosted solutions.
Enpass is serverless, easy to deploy and has the capability to integrate seamlessly with Microsoft 365, keeping passwords, credentials, and other files within the existing corporate IT infrastructure and automatically compliant with existing regulatory policies.  
Read more about Enpass Business
The Enpass Business experience
Enpass for Business includes all the features and functionality expected in a modern password management solution. It gives organizations the freedom to choose where they store their data – on employee devices or in their business cloud, set and enforce password policies, onboard users via SCIM supported Active Directory and more…
Local storage: Data can be stored locally on employee devices, with an option to use existing storage i.e., Microsoft OneDrive and SharePoint

User provisioning: Automatically provision users using Azure Active Directory via SCIM

Policy enforcement: Enforce and manage policies using the Admin Console.

Cloud support: Use any cloud – Box, Dropbox, Google Drive, Nextcloud, or any WebDAV based cloud – for data storage.

Microsoft 365 integration: enhanced functionality for Microsoft 365 for Business users – multiple vaults on the same cloud account, vault sharing, automatic employee offboarding and more. Read more about Microsoft 365 integration.
Currently, Enpass Business has two plans, Standard Plan and an Enterprise Plan. The standard plan is available at $2.99 per user per month, whereas the Enterprise plan is priced at $3.99 per user per month. Find out more about pricing and what's included.
If you have any questions or would like to schedule a demo, we'd be happy to show you how Enpass Business can work for your organization. Please contact our business team here.
As always, we can't wait to hear what you think of it. Please stop by our Enpass community on Forums or reach out on Twitter @EnpassApp, or on Facebook.
Enjoy, take care, and stay safe out there. 🙏🏻