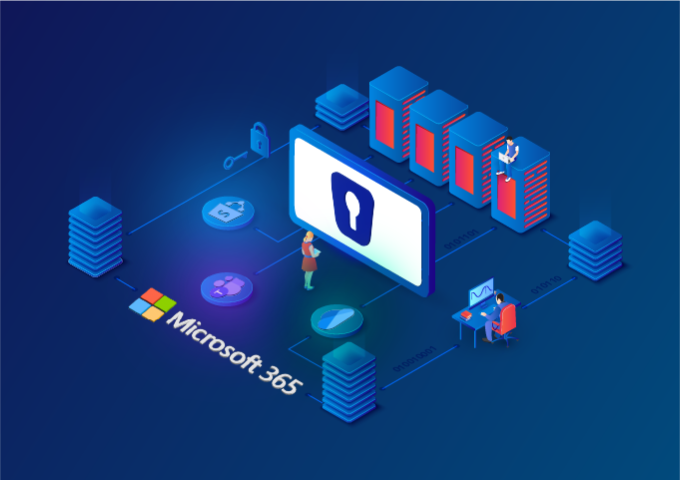 Over a million companies worldwide trust Microsoft 365 Business as the backbone of their day-to-day operations for storing and sharing files. That's why, although Enpass has been supporting Microsoft OneDrive storage for some time now, we wanted to take this to the next level and provide full integration with Microsoft 365.
If your organization relies on Microsoft 365 for data storage and compliance, then look no further than Enpass Business for password management and policy enforcement.
What does full integration with Microsoft 365 mean for businesses?
Enpass integration with Microsoft 365 for Business means that Systems Admins can manage the entire life cycle of employees – from initial provisioning and vault-sharing, to deprovisioning – it's all controlled through Microsoft 365. No additional setup is required.
Once a user has been provisioned on Enpass, they will receive an email from the Enpass app asking them to verify their account. Once verified, they'll be all set to start creating vaults and sharing them with colleagues via SharePoint or OneDrive. It's as easy as that to be up and running! And no extra training is required as your employees are already familiar with using Microsoft 365.
Enterprises that choose to integrate Enpass Business with Microsoft 365 will benefit from the complete Enpass experience. Key highlights include the ability to:
Create and store vaults on OneDrive and SharePoint
Admins can enforce users to keep all their Enpass data on the business OneDrive account, keeping all the organization data within the trusted boundaries. Read more about creating and sharing vaults on OneDrive.
Share vaults within teams from OneDrive
Users can share vaults with the other users or teams in SharePoint from the default interface of OneDrive/SharePoint in the same way that they share other files and folders. Read more about sharing vaults within teams.
Manage access rights
All the permissions and access rights for shared vaults are also managed through OneDrive. Enpass follows all the permissions set on the vaults on OneDrive. If a vault is unshared, it will automatically be removed from the Enpass client of the users it was shared with.
Automatic data deletion during employee's offboarding
When a user leaves the organization and is de-provisioned by the admin, access to all the business vaults is removed automatically along with access to the user's Microsoft account.
If you have any questions or would like to schedule a demo, contact our business team. We'll be happy to show you how Enpass Business can work for you and complete your security stack.
For other queries, drop us a line at support@enpass.io to let us know how you get on, or engage with our community on  our Forums, on Twitter at @EnpassApp, or on Facebook.