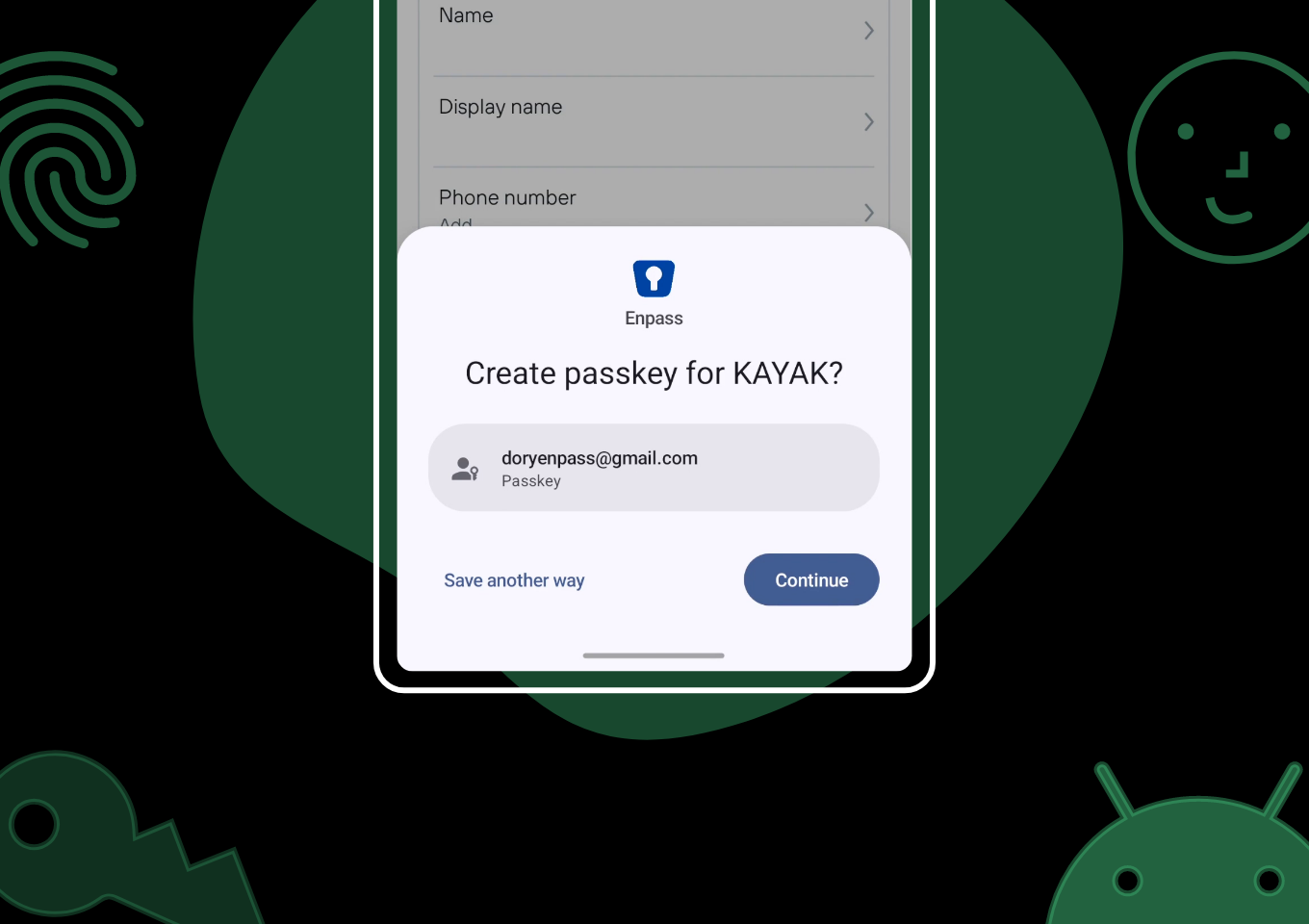 A couple weeks ago, Enpass became one of the first password managers to manage and sync passkeys across devices on iOS, and today we're bringing passkey management to Android too, enabled by the introduction of Android 14.
You've almost certainly been hearing a lot about passkeys lately, and with good reason! A partnership of leading tech companies has worked for 10 years to standarize a better, safer, easier, and unhackable replacement for passwords. Passkeys are powerful solution, and Enpass is helping usher in this new era by making passkeys user-friendly and available on all your devices.
Passkeys make logging in faster and easier, and make your accounts safer
Passkeys are a super-secure way of signing in to websites and apps by using your phone's existing biometric security — your fingerprint or facial ID.
They are pairs of digital "keys," auto-generated on your device, which only work if they're "turned" together. For each account or app, one key is kept by the account, and the other lives encrypted on your devices. When logging in, the two keys automatically match together to confirm you're really you. This is exponentially more secure than using passwords, and because passkeys have two parts in different places, they can't be guessed, stolen, hacked, or captured by scammers.
What's the big deal with syncing passkeys?
Until recently, passkeys have been tied to specific devices, meaning that while they were much more secure than passwords, they weren't as user-friendly. But syncing passkeys with Enpass changes all that. Let Enpass generate a passkey on one device, and it will automatically be available to log you in from all your devices.
Syncing passkeys will become the norm over the next few years, and Enpass users get to be some of the first people to use passkeys this way.
Share your passkey discoveries, experiences and questions at discussion.enpass.io
Why Enpass?
Most password managers store the vaults of every single user on their own proprietary cloud sever. This makes a tempting target for hackers, and has led to devastating security breaches in other password managers, which has led many people to be skeptical of using password apps at all.
But this problem doesn't exist with Enpass. Instead of that risky approach, Enpass empowers you to choose your own safest place for encrypted passwords and passkeys to be stored and synced. Enapss vaults can live in your cloud account (Google Drive, Dropbox, iCloud, OneDrive, Box, NextCloud, or WebDAV), or exclusively on a your own devices (syncing directly via Wi-Fi). This approach adds significant extra layers of security: Hackers coming after your passwords in Enpass would have to…
Target you personally, not a central server full of users' vaults
AND know which cloud services you've chosen for your vaults
AND discover the credentials to those cloud accounts
AND get past each cloud account's multi-factor authentication
AND also know your Enpass master password
It's time to try passkeys for your accounts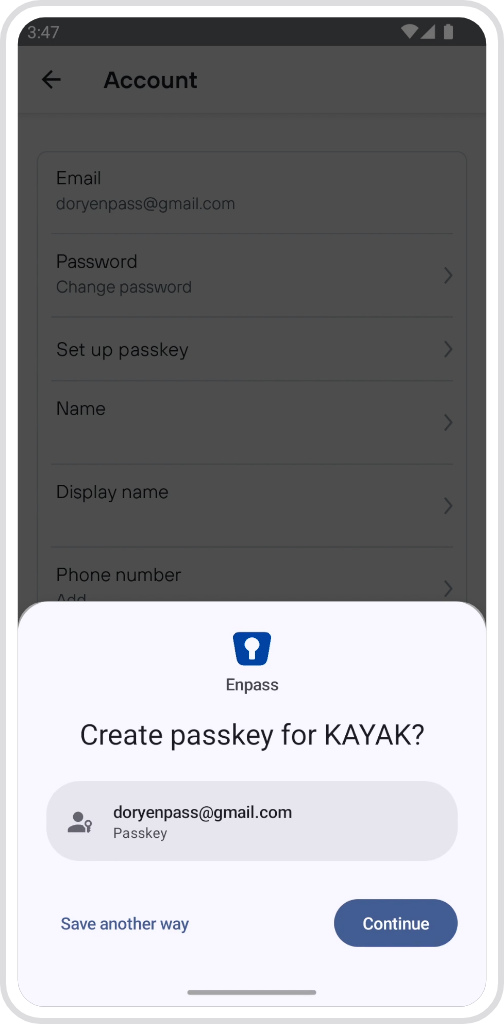 A growing number of sites and apps now support passkeys, including your Google account, Amazon, Facebook, PayPal, eBay, Microsoft and Yahoo. So start your journey toward a passwordless future, using passkeys and Enpass to make your accounts more secure than ever!
Be sure to make sure Enpass is your default passkey provider in your phone's settings, so Enpass can manage your passkey security: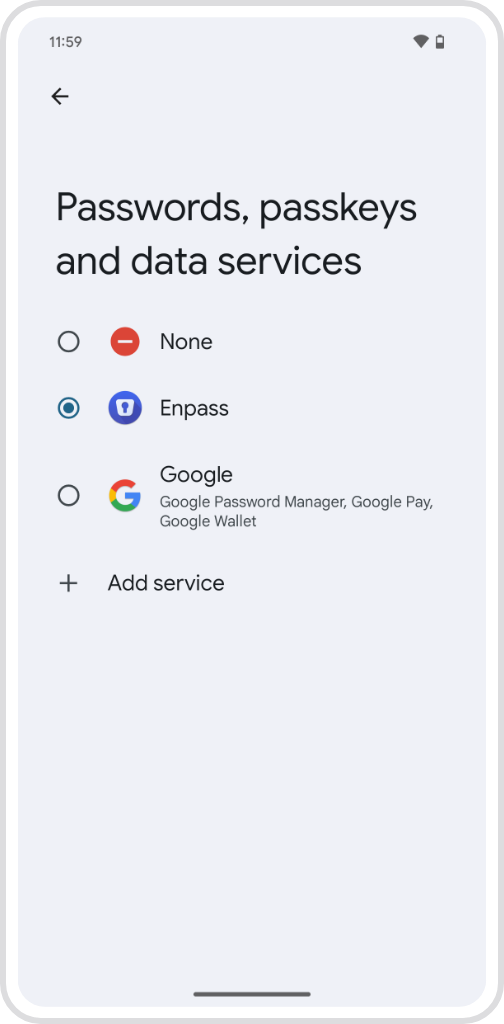 In your phone's Settings…
Go to Password and Identity, and select Password, passkeys and data services
Select Enpass as your passkey provider.
Enjoy greater security with passkeys
We look forward to hearing what you think of passkeys in Enpass for Android and iOS. (Enpass for desktop computers already syncs passkeys created on mobile, and will support passkey creation and login within a few weeks.)
Feel free to share your thoughts in our Enpass community forums, or reach out to us @EnpassApp on X, or on Facebook.
And stay tuned for more updates as we continue to innovate and enhance your experience with Enpass.