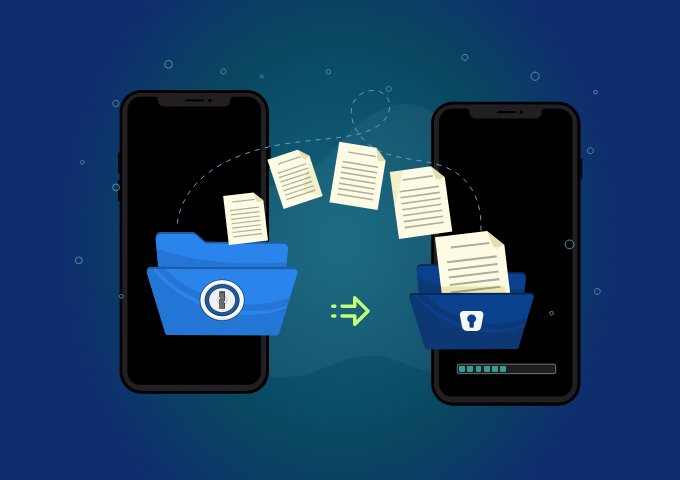 1Password version 8 has had mixed reviews. While some are playing the waiting game to see what the final release brings, others are looking into alternative options. If you are reading this blog, then you will most likely be in the latter camp.
Here we explore some of the reasons why people are considering Enpass as an alternative to Password and provide a step-by-step guide on how to export your usernames and passwords out of 1Password and into Enpass, without having to start over from scratch.
One of the main reasons people choose Enpass is for its ability to let users store passwords, user names and other credentials in their personal cloud – something 1Password users are losing in version 8. In fact, unlike the majority of password management services that require user data to be stored in the service provider's cloud, Enpass offers a variety of options:
Local storage: Store your data locally on your devices (effectively offline).
Personal cloud storage: Sync your data through your choice of cloud service.
WiFi sync: For the extra security conscious, sync data across your devices "cloudlessly"
Enpass is available across all platforms and browsers and has the capability to sync with all major cloud services. What's more, Enpass offers a monthly subscription and a one-time purchase option.
Exporting your user names and passwords from 1Password
The first step is to export your user names and passwords from 1Password. You will have the option to export your data in a .1pif or a .csv file format. We recommend the .1pif format for the best results.
Open 1Password on your desktop.
In your menu bar, click File, select Export, then click All items.
Enter your master password, then click Continue.
Select .1pif file.
Save the .1pif file to your desktop.
If you store any documents in 1Password you will need to download these individually as they will not be included in your export.
Importing your usernames and passwords into Enpass
You will need the desktop version of Enpass to import your 1Password user names and passwords. You can download it here.
Open Enpass on your desktop.
In the menu bar, click File, select Import, select 1Password.
Select the .1pif folder or .1pif file and click Continue.
You will now see the confirmation message to import the items. Click Continue
Your items will be added to Enpass under the predefined categories. Any items with no category or category unknown, will go into the uncategorised section in the sidebar. You can drag and drop the items from here to change their category.
A word of warning… the data exported into the .1pif from 1Passwsord is unprotected and therefore vulnerable. Therefore, we highly recommend deleting the file from your desktop as soon as you have moved everything over to Enpass.
At Enpass, we actively encourage our community to provide feedback on their experience to help us continue to improve our service. Drop us a line at support@enpass.io to let us know how you get on, or engage with our community on our Forums, on Twitter at @EnpassApp,or on Facebook.
For instructions on how to import your user names and passwords from other password management services into Enpass, click here.