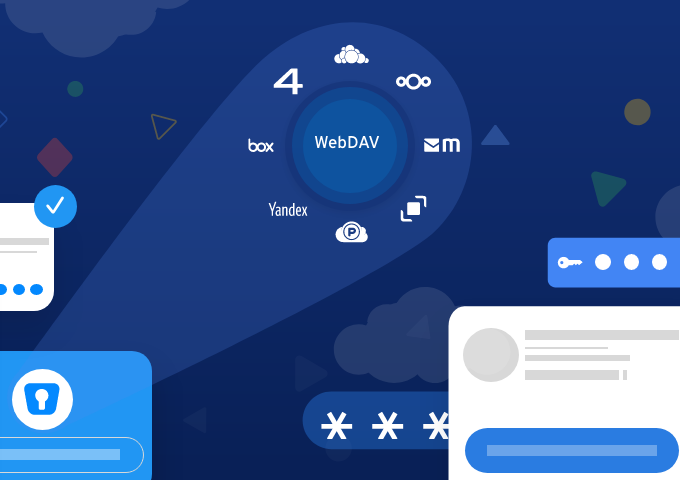 Enpass password manager is being loved by millions of users worldwide and the paramount reason is absolute privacy. All your data is stored locally on your device and optionally you can sync your data across devices using a cloud of your choice. The prominent options to choose between clouds are: iCloud, Dropbox, Google Drive, OneDrive, Box, and WebDAV.

Recently we added the support for sync through OneDrive for Business, letting users use their business office 365 accounts for storing and syncing data. All roads don't end here; a lot of people want to take different, more-private routes through popular clouds, some are personally hosted encrypted cloud storage based on WebDAV.
What is WebDAV?
WebDAV stands for Web Distributed Authoring and Versioning, which is an extension to HTTP that lets clients edit remote content on the web. In essence, WebDAV enables a web server to act as a file server, opening doors for Enpass users to store and sync data through it. Nearly all file managers on all operating systems allow you to mount WebDAV storage without any need for an additional plugin to be installed. That reduces the dependency on more software making life easier for users to get into action in no time. This is a significant factor why many online cloud storage providers implement WebDAV natively or as an alternative.
Supported cloud services using WebDAV
From our users' feedback, we get to know the various clouds they are using to sync their data from Enpass using WebDAV. We keep on improving our WebDAV implementation regularly to support the new clouds, requested by our users. It took significant resources to maintain it, but it is something we are proud of.
Here's a list of currently supported clouds, we're aware of, but is not limited to these options only. It is quite possible that the WebDAV cloud you're using is supported by Enpass, but is not listed here. Just check it with your provider if it has WebDAV capabilities.

Please find the steps to set up the following clouds with Enpass:

Local WebDAV setups are also supported
If you're among those, who want to keep their passwords and credentials locally hosted rather than on any cloud, Enpass is the best offline password manager for you. Enpass doesn't limit WebDAV lovers to stick with the above-mentioned cloud services only, instead, you can keep your data on your premise by hosting a WebDAV server on your LAN. Currently, our customers are using the following WebDAV implementations for self-hosting their Enpass data:

Synology: If you are using Synology Diskstation (NAS) at your home, you can enable the built-in WebDAV support through which Enpass can sync your data securely across all your devices. This is how you can set up Enpass to work your Synology setup.
ownCloud/Nextcloud: You can host a ownCloud/Nextcloud server on your local LAN and set up Enpass to store your data there, and keep it in sync always. Read more about how you can set up ownCloud and NextCloud servers at your premise, and then how you can set up Enpass to work with them.
If you're using any other WebDAV based cloud and having trouble in setting up Enpass with it, please write to us at support@enpass.io with a demo account of your setup and we will look into it to support Enpass. Please share your experience with us on Twitter @EnpassApp or on Facebook. For any query or suggestion, head straight to the Enpass Forums.