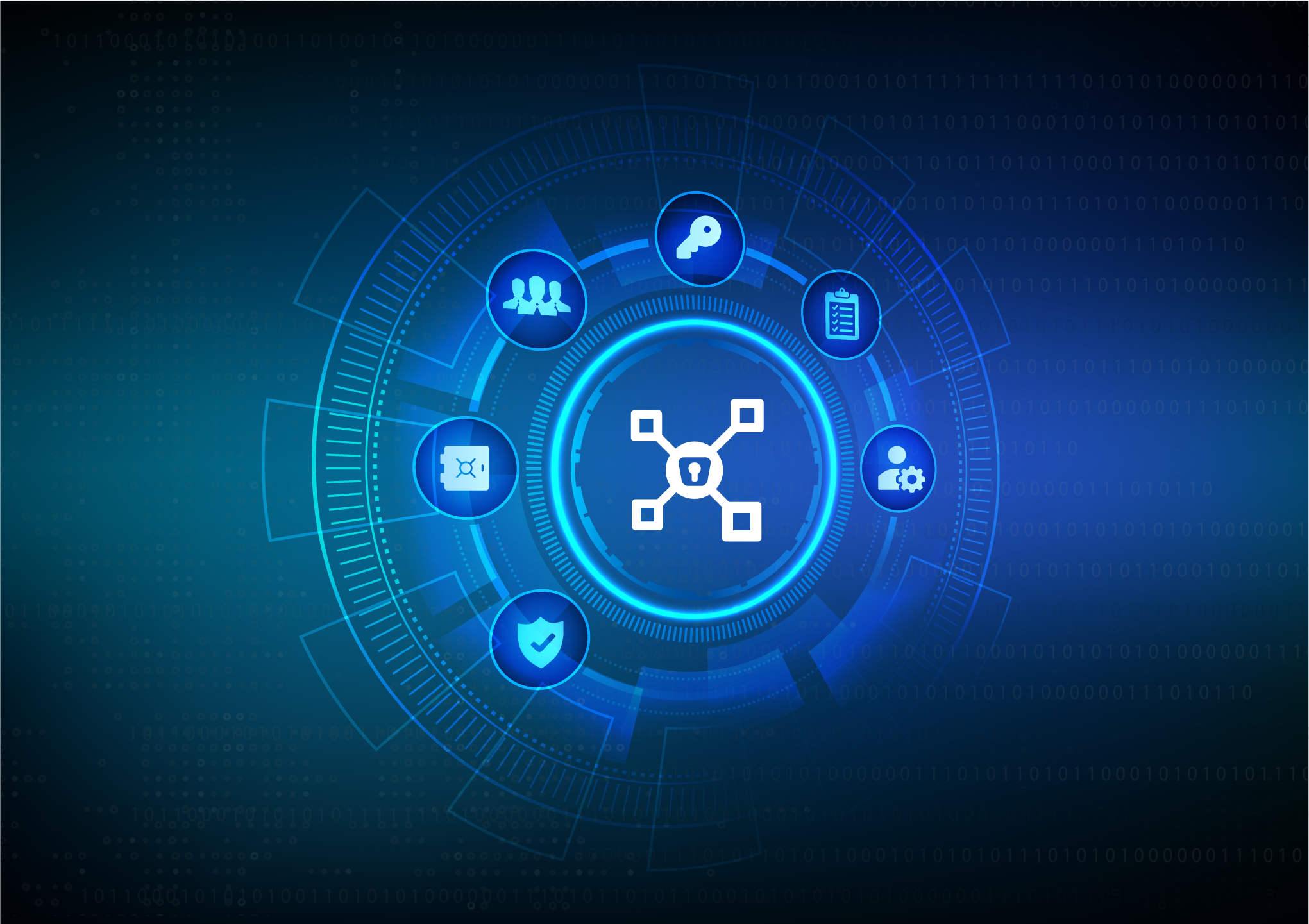 Maintaining a robust cybersecurity posture within an organization is not just an option, it is a necessity. Understanding this pressing need, we are excited to announce the launch of our newest Enpass feature: the Security Audit Dashboard. It's an innovative solution designed for Enpass Business Admins to keep a vigilant eye on the overall password health of their organization.
Prior to this, it was not possible to provide you with this information, as there was no centralized place where all the Enpass apps running within the organization could report their Password Audit stats. Users had the ability to view these stats within their apps, but these insights were not visible to admins. Recognizing the importance of providing admins with a birds-eye view of their organization's password health, we've build this new Security Audit Dashboard right into the Enpass Admin Console.
All Thanks to Enpass Hub!
This Security Audit Dashboard has come to life because of the Enpass Hub – a server hosted right within your organization. This personal server silently watches over all the Enpass apps your team uses, collects the data reported by them, and giving you, the admin, a panoramic view of everything under your purview. Curious about how to set this up? Read more about setting up an Enpass Hub.
What can you do with the Security Audit Dashboard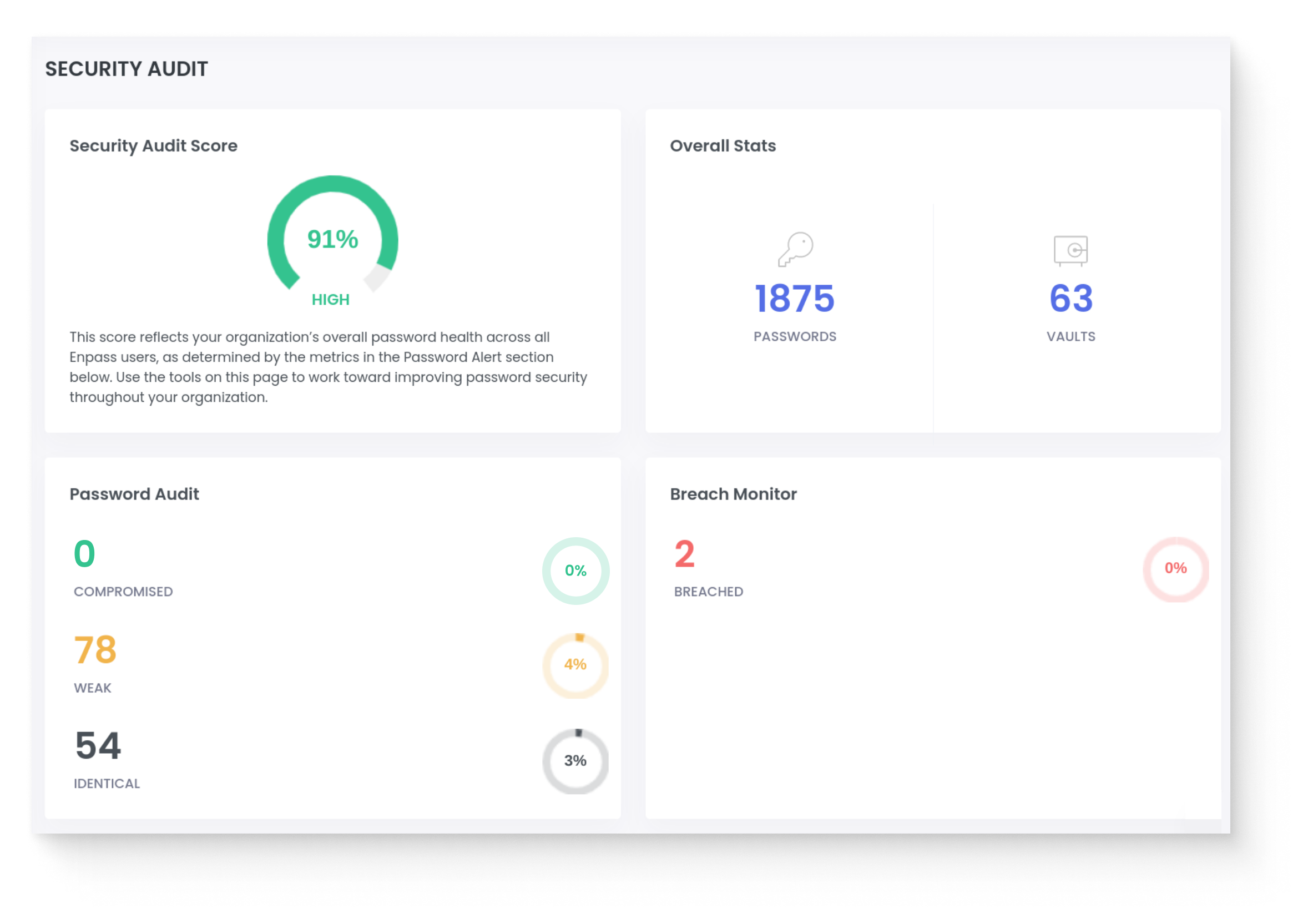 In the Security Audit Dashboard, admins will find four sections:
Security Audit Score

An at-a-glance view of the overall password health across all Enpass users in your organization. This is the score that you strive to keep high and is linked with the quality of passwords, users in your organization have.

Password Audit

Organization-wide statistics on weak, compromised and Identical passwords.

Breach Monitor

Organization-wide statistics on credentials that need changing for sites that have had suffered a breach. Your users also relay this information to the Security Audit Dashboard, so admins can see the affected items within your organization.
Keep an Eye on the Vaults in Your Organization
In addition to the features we've highlighted, there's more to the Security Audit Dashboard. It includes a comprehensive Vaults section, which provides interactive details about every Enpass vault in your organization's Microsoft 365 — OneDrive and SharePoint. This allows you to:
Monitor the health of users' primary and any other shared or private vaults.
Use advanced filters to pinpoint at-risk vaults, and filter vaults by security risk, location, sharing status, and user status.
Run reports and export the data to CSVs, perfect for your next security meeting or for keeping physical records.
Drill down into individual vaults to see more
But, wait, there's more! Clicking on any vault in the list will give you a detailed view that includes:
The vault's security status, including a security score and any vulnerabilities.
The vault's sharing status, including users with access to the vault and their permissions.
The vault's password strength.
The vault's location within your infrastructure.
The number of items in the vault, and the number of attachments.
Time and user information for the most recent modifications.
These features provide admins with a clear picture of each vault, further empowering you to manage your organization's cybersecurity effectively.
How secure is your data?
Of course, because this is Enpass and not just any other password manager, none of the data stored on your Hub is ever shared with us or anyone else. Your information stays exactly where it should – within your organization. Read more about the security of Enpass Hub.
There are other fantastic features in Enpass Hub waiting to be explored, including Access Recovery for users who have lost their Master Password and Streamlined Vault Sharing. If you haven't already, it's time to bring Enpass and its Hub to your organization.
As we wrap up, a huge thank you for being part of the Enpass community. We truly believe that Enpass v6.9.0 will revolutionize your organization's security landscape, making it safer and more efficient.
Continuing our commitment to your feedback, we can't wait to hear what you think of it. Feel free to share your thoughts at our Enpass community on Forums or reach out to us on Twitter @EnpassApp, or on Facebook.
Stay tuned for more updates. Until then, happy password managing!