Beloved Blackberry users! Here we present you the new avatar of Enpass for Blackberry devices; Enpass 5.0. Although BlackBerry will not release more devices for BB10 but never mind as we won't stop giving you the further necessary updates.
In this newbie, we've packed in some new features and improved performance even more, have a look.
A Refreshing UI
Enpass 5.0 features an all new user interface to make your Enpass experience more smooth and spontaneous with the rounded icons and alluring visual appeal.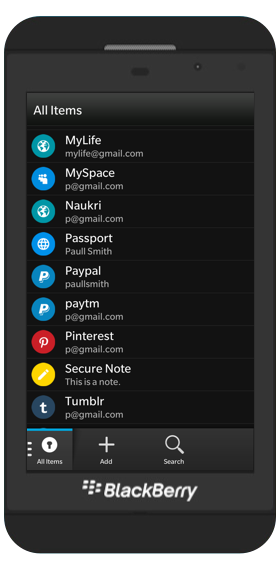 Changing Categories
Just like the Android and iOS versions, you can now change the category of any item in the Blackberry version too.
In this update, we've also improved the performance in syncing with WebDAV and OneDrive. Along with that we've added more search engine option for the inbuilt Enpass browser. Checkout the complete list of changelog here.
Enjoy this new update and share your experience with us in comments below. Don't forget to rate Enpass on Blackberry World, and stay connected with us at Facebook and Twitter. We ❤ you.
Keep using Enpass, and stay secure !!