We are really very happy about the upcoming new update of Enpass as v4.5 but sideways it will be very painful for us to release that as a separate new App on Google Play Store. Yes, it is sudden as we had to take an immediate action when we came to know that our existing app has been removed from US Google Play Store under the issue of Trademark infringement.
Trademark Infringement!! Shocking isn't it? Yes, we were shocked too!
On 15 January, all of a sudden we got a mail from Google that Enpass has been removed from the US Play Store on Request for Removal by a complainant. The complaint was that we were using registered character mark in our description. We were shocked as we always try to play fair. Well, that was Google's decision based on their Policy but atleast we should have got any warning to correct our mistake. Without spending a minute, we revised our whole description, but you know 'to Err is human'! We found out that we have mistakenly violated it.
Below is the screenshot of mail that we received from Google.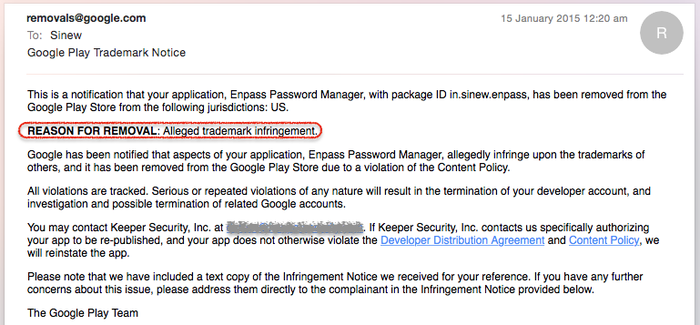 Appeals got Rejected.
After amending the description, immediately we raised an appeal to Google asking for re-instating Enpass in US Play store. But Google simply rejected that saying the App can be reinstated only if the complainant contacts Google asking to republish the suspended App otherwise we have to submit a new App on Play store under a new package name.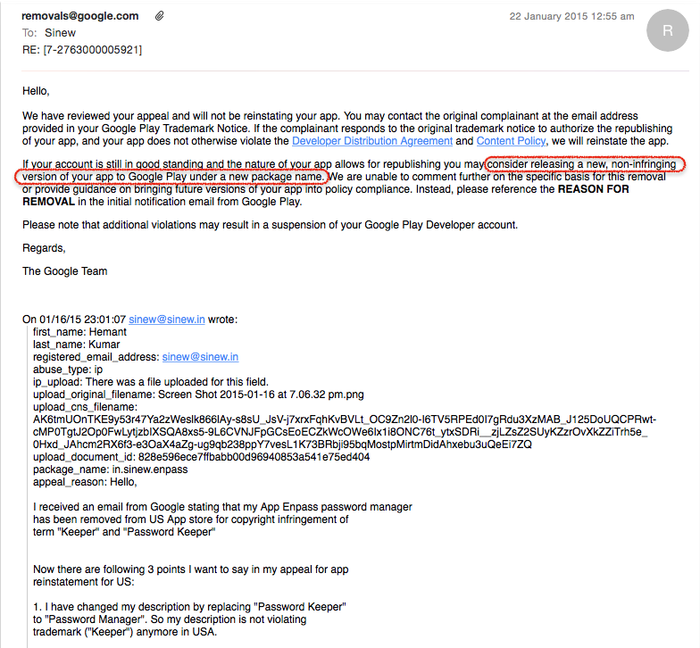 We appealed second time and again it was rejected. All in vain. SAD!!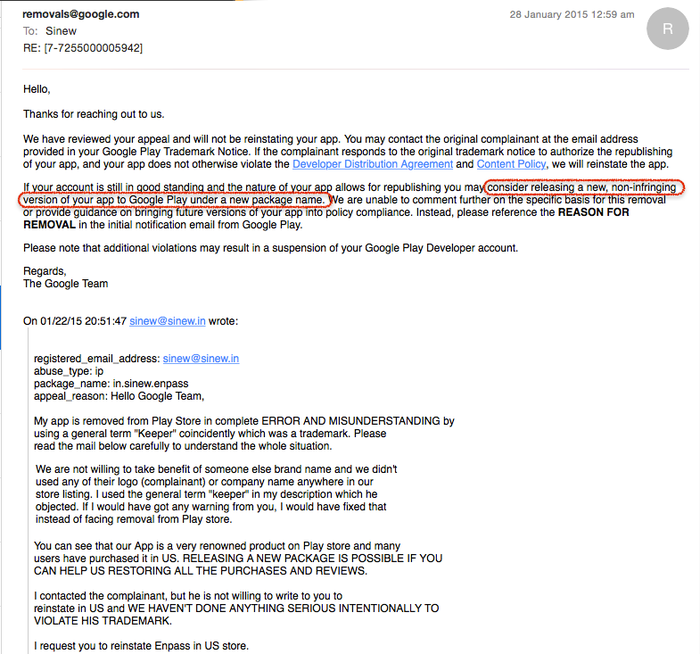 After discussing it among the teams internally and considering the response we got from Google, we found that the only way left for us to be out of woods was to Submit a new separate package for Enpass app on Play Store. (Guys, We are really sorry!!).
New App. OK, Digested! So Do I need to buy it again?
While deciding to release Enpass as a separate app, our major concern was to restore purchases of existing users without making them to pay again and that too in a hassle free way. So we came up with the solution that lets you restoring your purchase through Google Play Store's Order Number. Developing this system costed us extra hours and resulted delay in release process.
Read more about using your order number to restore your purchase on the link below :
What we need is a little help!
We know the restoring process is a bit troublesome but it was the best we could do. The situation is harsh here for us too as we are back to square one; with a fresh content having no reviews and ratings on the Play Store. But, we are very sure that you all would understand our pain and give value to our hard-work in the form of your reviews and ratings. Each of your review will rejuvenate our team to strive to improve Enpass with more cool features in coming releases.
The update is coming anytime very soon as soon as it passes the QA tests of all other Application stores. We will intimate you about the availability of new update when we make it available on Google Play Store. If you face any problem or have question in restoring your purchase, please do not leave it as a review on Play store. Send a direct mail to us on support@enpass.io with your order number and date.