After a sorrowful removal of Enpass from the US Google Play Store, we are about to release the new update of ENPASS as a separate app, which also resulted in delay to release process. We did our best to make sure that our existing Enpass & Walletx users needn't to pay again to use the new version and can restore their existing purchases without any hassle. 
The final solution we came up with migrates the existing purchases to new App using your Order Number of Google Play Store. It is a very simple process. Lets have a look how can we do it with the order number or transaction ID associated with your previous purchase of full-version upgrade of Enpass.
Locating your Order Number or transaction ID.
When you buy anything from Google Play store, you automatically receive a confirmation email with your receipt bearing the order details. Your order number is mentioned there on it as a long train of digits in two parts; separated by a period(.). Search in your inbox for "Google play order Enpass" and you will find it if its still there.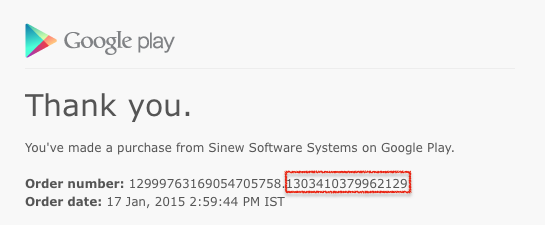 Otherwise, you can also get it by signing into your Google Wallet. Anyone who has ever bought any content from Play Store has a Google Wallet account that contains the history of all purchases. Just login and search for "Sinew Software Systems" and it will something look like this.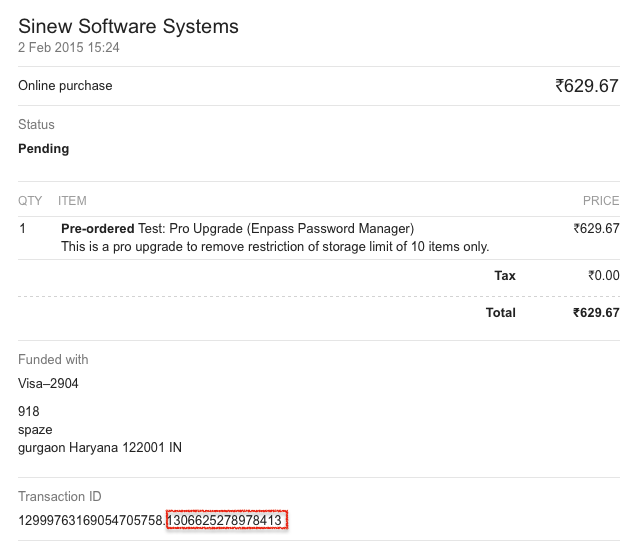 You will only need the second part after period(.).
The whole process of migrating from older version to new Enpass 4.5 in following steps:
Step 1: Taking backup of data on SD card in older Enpass.
Step 2: Restoring data in new Enpass 4.5.
Step 3: Locating order number
The update is coming anytime very soon as soon as it passes the QA tests of all other Application stores. We will intimate you about the availability of new update when we make it available on Google Play Store. If you face any problem in restoring your purchase or have any question, please do not leave a review for same on Play store. Rather send a direct mail to us on support@enpass.io with your order number and purchase date.