Cloud Sync is one of the finest features of Enpass, yet a lot of our users don't know about it. In a recent analysis, we found that over 15% of Enpass users only use local device storage to store Enpass data.
So, let's talk about the advantages of using Cloud Sync, and why you should adopt it as well.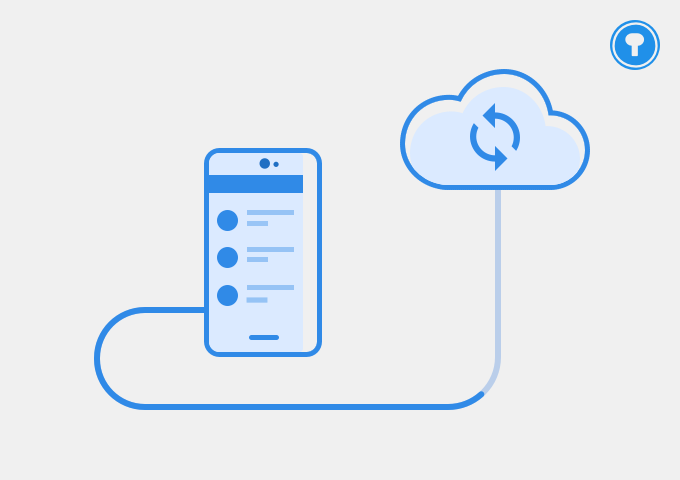 "Hello! I'm using Enpass on Windows and I want to restore my data on my new iPhone. How can I do that? Please help."
This is just one of the many support emails we get – people looking to get back their data after resetting their device or restoring data on a new device they've bought.
Well, Cloud Sync is the answer to all these problems. All you need to do is enable the feature from Settings, and everything else will be taken care of automagically.
Note that unlike other online password managers, we don't store your Enpass database on our servers. The data is stored on your own trusted cloud account, and that, when you enable Cloud Sync.
Automatic data syncing across devices
Syncing with the cloud is seamless, and helps you avoid wasting time in managing your data. Any change in Enpass database (new additions, change of details, etc.) of one device gets automatically updated in the cloud, and subsequently on your other devices synced with the same cloud account. You wouldn't have to struggle to update the changes manually everywhere.
Effortless data restoration
While we do offer several options to do so, restoring data using the cloud is the simplest one. All you need to do is to connect Enpass to your cloud account, and done. The data would automatically replicate in your new or freshly reset device in a blink. Easy-peasy!
Even WebDAV!
If you're still debating about third-party cloud service providers, you can use your own WebDAV account which will provide the same experience of data syncing as your Dropbox, Google Drive or other supported cloud accounts.
Data Security
Your data on the cloud is securely encrypted with the world's leading encryption scheme, AES 256. The data gets encrypted on your device locally and then transferred to the cloud. You just need a strong master password, and your data will be secured and protected over the cloud too.
Please share your experience with us on Twitter @EnpassApp or on Facebook. For any query or suggestion, head straight to the Enpass Forums.